LoadLifter 5000 Ultimate Plus Upgrade Kit 52300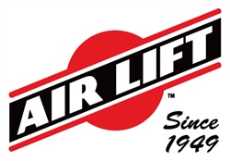 This product is a universal fit that is not specifically made for any given vehicle. Modifications may or may not be needed to use this product on your vehicle.
Product Description
Air Lift Company now offers a kit that allows elite users to upgrade the components of their existing LoadLifter 5000 series air spring kits to those of the new LoadLifter 5000 Ultimate Plus kits. With this upgrade opportunity, users can now have the longest-lasting load support system that money can buy, without needing to purchase an entirely new system. For those with existing Air Lift LoadLifter 5000 series kits on their vehicles, the power of air is undeniable -- up to 5,000 lbs. of load-leveling capacity, eliminating squat, poor headlight aim, trailer sway, and body-roll, creating a comfortable ride and stress-free towing experience. Now, Air Lift offers elite towers and haulers the opportunity to upgrade the components of their existing LoadLifter 5000 series systems to those of the LoadLifter 5000 Ultimate Plus systems. With this upgrade kit, Air Lift users can add military-grade AN fittings and 10 feet of braided stainless steel air line to their system for added protection from heat and road debris, as well as leak-free connections. All of the existing benefits of the LoadLifter 5000 series system are preserved, with the addition of a new level of the safety and comfort that Air Lift is known to provide. As the leader in air suspension products for more than 65 years, Air Lift is committed to delivering quality load support parts that last. To ensure the highest quality, longevity, and customer satisfaction, the key suspension components, including the air springs and all hardware, have all been torture-tested on our hydraulic test rig. With a limited-lifetime warranty -- not to mention the Air Lift reputation for great customer service and technical support, should you run into any snags in the installation process -- you can purchase this kit with peace of mind. Installing the kit is a simple process, requiring only common hand tools and no frame drilling.
Product Features
Air Lift Company Now Offers A Kit That Allows Elite Users
To Upgrade The Components Of Their Existing LoadLifter
5000 Series Air Spring Kits To Those Of The New
LoadLifter 5000 Ultimate Plus Kits
With The Addition Of These High Quality Stainless Steel
Air Lines And Fittings Users Now Have The Longest
Lasting Load Support System That Money Can Buy
Without Needing To Purchase An Entirely New System
Product Specifications
Warning: May contain chemicals known in the state of California to cause cancer, or birth defects or other reproductive harm. For more information, please visit www.p65warnings.ca.gov
Application Guide